Joe Cody is an expert in health care policy and advocacy and an active volunteer with RESOLVE: The National Infertility Association. He is also a dad through IVF and, when his wife, Jackie, started carrying a large 3-ring binder to every single fertility appointment, they knew there had to be a better way to stay on top of all their health related data and costs. This inspired Grain Fertility: an app that gives patients ownership of their health data and access to it, when and how they want. We loved hearing from Joe about their fertility experience, the inspiration behind the platform, as well as how it empowers fertility patients to make more informed decisions about their care. Check out our interview to learn more about Grain Fertility, as well as Joe's advice for fertility patients just beginning their journey.
1. You and your wife pursued parenthood through IVF and welcomed your daughter to the family a little over two years ago. What was your experience as an intended father going through the IVF process and how did that inspire the creation of Grain Fertility?
It is a blessing that we have our beautiful daughter and the journey to her was difficult, as so many other patients who have undergone IVF know. No one can really prepare you for the toll it takes psychologically, the amount of time it requires, the amount of money it costs, and the feeling of powerlessness you have. As we went through our journey, like many fertility patients, my wife and I accumulated a significant amount of health records, expense receipts, and paperwork. It got to the point where she put together a 3-ring binder for all of our information and carried it to every single appointment to ensure all of her doctors had access to anything they would need. It was during this time that we thought to ourselves there has to be an easier way for us to keep all of this information in one place. The idea for Grain Fertility emerged from our desire to build a better binder using technology and help patients by giving them the tool we wish we had during our fertility journey.
2. What is Grain Fertility, and what is your vision for how it will uniquely support fertility patients?
Grain Fertility is a secure, fertility focused application that makes accessing, organizing, and utilizing fertility related health and financial information easier to improve health management, reduce stress and administrative burdens, and allow patients to focus on what matters most, their care. Every person has a story of trying to access their health records or insurance information, only to get stuck in a patient portal, or trying to figure out how to fax a form or record to their doctor. This issue is especially pronounced for fertility patients due to a large number of fertility clinics who still use paper records and fax machines. While there has been progress in ensuring patients have access to and understand their health information in the last few years, I want to help fertility patients by giving them the ability to easily and securely access and learn from their data. I strongly believe that an educated patient is an empowered patient and the best way for us to improve the patient experience and fertility care is by giving patients the tools to use and understand their health information.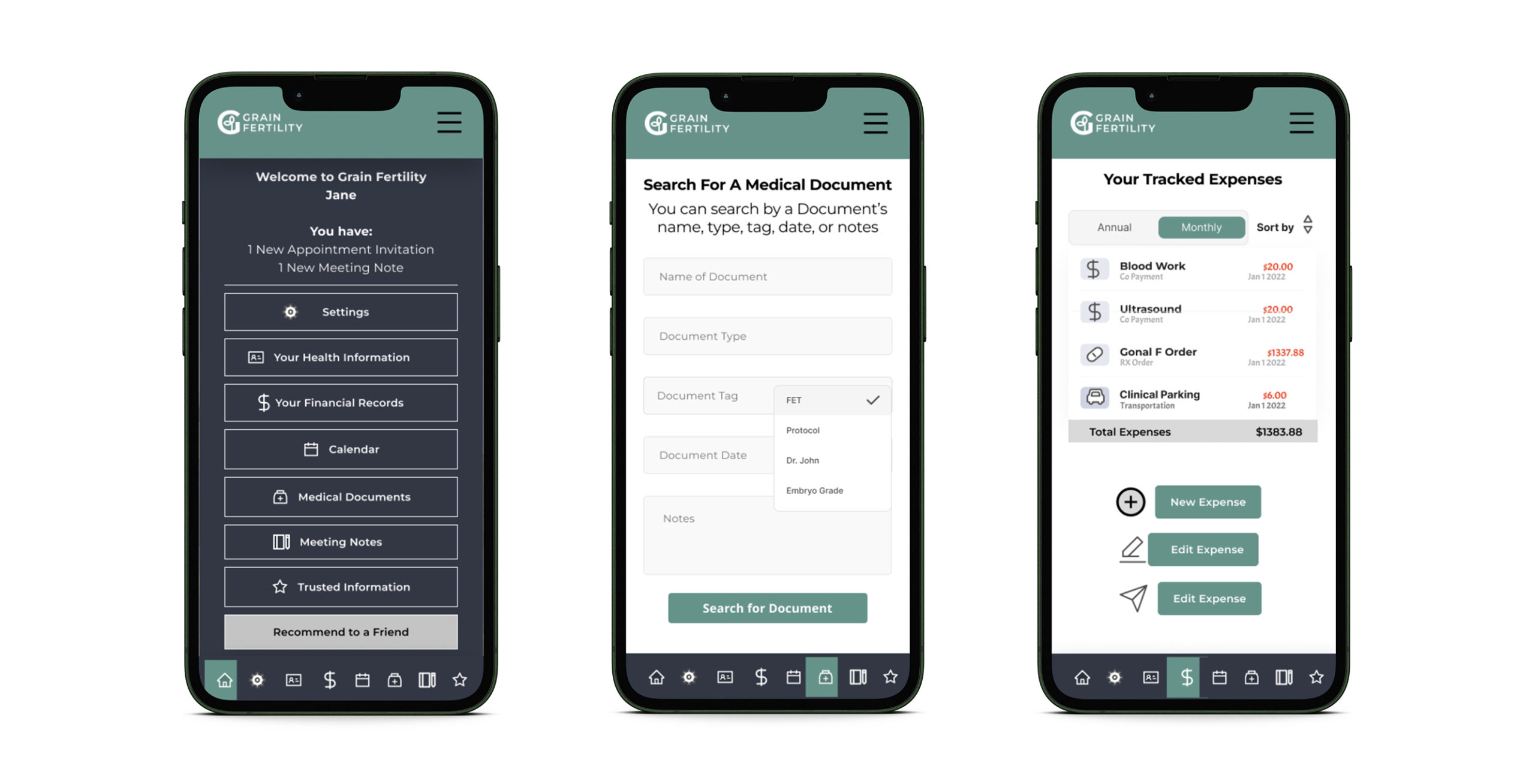 3. Tell us more about your background in healthcare policy and advocacy. (and thank you for your incredible efforts by the way)! How did that influence or inspire where you are today?
I have worked in Washington DC since 2008, having served on the staff of a U.S. Senator, worked as a health policy consultant for a major firm, and handled health policy for multiple large medical associations. Early in our IVF journey, I wanted to channel the feelings of powerlessness and frustration into something positive and started using my professional skills to help advance policies expanding coverage for fertility services and raising awareness about infertility. I got involved in RESOLVE: The National Infertility Association and helped lead their 2020 and 2021 Advocacy Days as Co-chair. It was the honor of a lifetime to work alongside so many dedicated advocates and I encourage anyone interested in helping to expand access to join a future Advocacy Day.
While our infertility journey does not define me or my family, it has profoundly impacted us and it is driving me to build a patient-centered fertility application that helps the 1 in 8 individuals who will experience fertility issues. I really want to give back and help as many people as possible. This is what is really driving me to build Grain Fertility.
4. Are there any statistics or background information fertility patients should know about the importance of comprehensive and secure access to their medical data?
We know that patients spend too much time trying to access and understand their medical data and often feel underprepared for discussions with their doctors. Patients spend an average of 6.5 days per year (156 hours) online trying to better understand their own health and 66% of patients admit they are not extremely confident in their understanding of the health information they discuss with their doctor. I know that I have spent countless hours trying to collect and understand my health data and it can be incredibly frustrating. We also know that patients who are engaged in accessing their health information have better experiences, where one study showed 80% of patients believed if they had access to all their health information, they'd see at least one improvement in their health management. Data also shows that patients who open their clinical notes and review their records often find inadvertent errors and wrong information, with one study finding 1 in 5 patients who read a note reported finding a mistake and 40% perceived the mistake as serious. Grain Fertility aims to give patients access to their health information like never before, centralizing everything into one location.
Security is also essential to any application, especially in today's climate following the Dobbs Supreme Court decision that struck down Roe v. Wade. Security and privacy will always come first for Grain Fertility and that is why we are building an application that empowers patients by developing a HIPAA compliant, security-first platform that provides users with the ability to opt out of information sharing with trusted partners at any time, no questions asked. We also plan on voluntarily attesting to the CARIN Alliance Code of Conduct for medical application developers and consulting with the American Medical Association's "Privacy by Design" toolkit during development to make sure patients and doctors know they can trust Grain Fertility.
5. What piece of advice or words of wisdom would you share with new fertility patients just beginning their own family building journey?
The best piece of advice I can give new fertility patients is to ensure you are not too hard on yourself and your loved ones. It is important to make sure you focus on your own self care throughout your journey. Going through fertility treatments can be very hard and lonely at times and just so happen to find that organization and advocacy helped me cope with the emotions and stress. I encourage new patients to try to find what helps them manage their own family building journey. Hopefully Grain Fertility will help patients with one piece of this puzzle by taking some of the administrative and cognitive burdens off of their fertility care. I also believe it is important to try to find someone to talk to, whether it is a spouse, partner, parent, friend, therapist, or support group. We all struggle to cope with difficult medical issues and I found that having some sort of outlet really helped me.
Thank you for supporting fertility patients through Grain Fertility, Joe, as well as for your advocacy work with RESOLVE and beyond!
Learn more about Grain Fertility and how it can help you make your journey easier.