Having supportive people to lean on makes a world of difference, especially when dealing with the challenges of infertility. This is what Fertility Rally is all about: support, curated information, inclusion, humor, and lively virtual events that add a dash of positivity to taxing days. I was excited to speak to the women behind the quickly growing community, Ali and Blair, who, with their energy, talent and dedication make the at-times rocky journey to parenthood more bearable! Check out our interview to learn more about their family-building stories, their incredible (virtual!) friendship, how Fertility Rally was born, and their sound advice for those navigating infertility: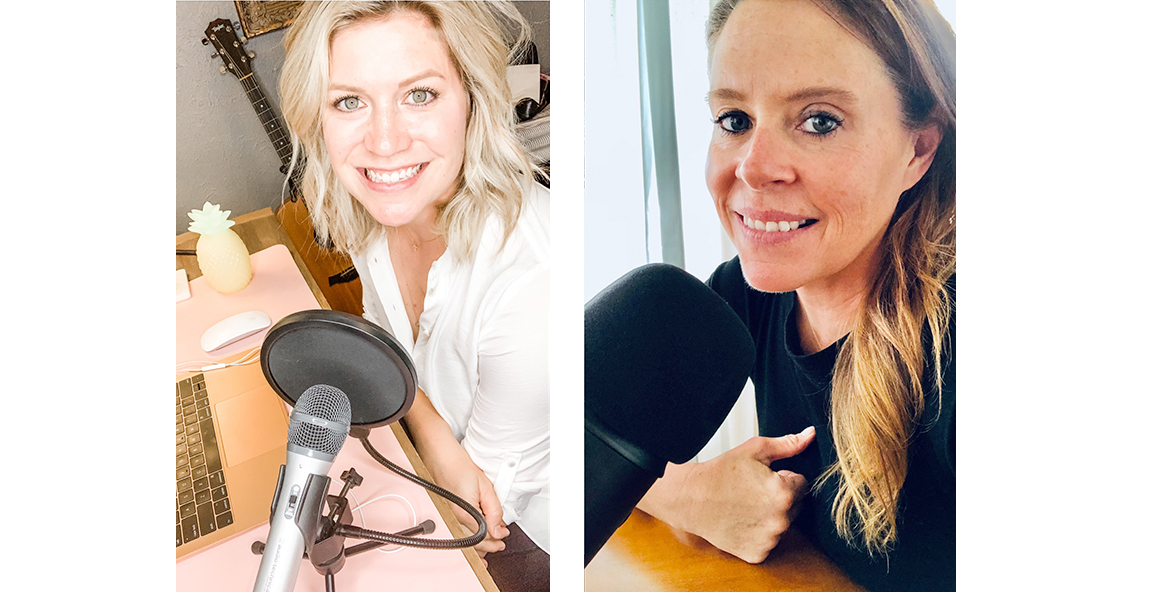 Ali and Blair, Co-founders of Fertility Rally
1. In Fertility Rally you have created 'the worst club with the best members' – and it goes without saying that we love what you're doing to support others going through infertility or building their families in a non-traditional way. So, how did you get here? Can you tell us more about both of your journeys to this partnership?
Blair: Much like my actual fertility journey, the journey to creating Fab Fertility and Fertility Rally was unexpected and full of twists and turns. I started Fab Fertility amidst an internal crisis. After suffering a miscarriage following our second embryo transfer during our first round of IVF, I felt slapped in the face by infertility and very lonely. I started my Instagram account to find support and women to relate to. I found that and so much more. The friends I made pulled me out of my darkest days and inspired me to find purpose in my pain. My account quickly became a way for me to educate and empower women going through similar struggles. To reach more women and share more knowledge, I started the Fab Fertility podcast. One of the women who has inspired me from the beginning is my business partner, dear friend and big sister figure, Ali. We connected over our podcasts and bonded over our mutual passion for having fun and love for the TTC community. We had a bright idea during one of our late-night text exchanges to create Fertility Rally – an annual celebration of the kick ass women that make up the infertility community. Our plan was to tap into the amazing connections we had made podcasting to put on amazing programming and parties for infertility warriors to celebrate their strength. COVID threw a huge kink into things that invited us to think bigger than one annual event. We quickly realized the community needs to rally together 24/7 which prompted us to launch our membership platform in June. It has been a wild ride, a huge learning curve, extremely challenging, but more rewarding than anything I have ever done. Seeing and hearing what Fertility Rally has done for the members who have joined makes my heart happy every single day.
Ali: I went through secondary infertility between my daughter, who is now 11, and my son, who is now 4 ½. Over the course of three years, I had four miscarriages. I didn't have a problem getting pregnant, I had a problem staying pregnant. This was due to my age: I didn't have diminished ovarian reserve, but I had an egg quality issue. Each of my four miscarriages were due to chromosomal abnormalities, so when we met with an RE, he told me I was a perfect candidate for IVF. We finally agreed to do one IVF cycle, and after genetic testing, we ended up with one healthy embryo. We transferred that embryo in April 2015, and in December, my son was born. When he was 3, I decided to start my podcast, Infertile AF, to share stories, blast stigmas, and let people going through infertility know they are not alone. The Rally is the place we both wish we'd had when we were going through our respective journeys. The women in this community are amazing. Everyone wants to help each other out and lift each other up, and so we wanted to bring everyone together in one place. We started in June 2020 and now we have 250 members and counting.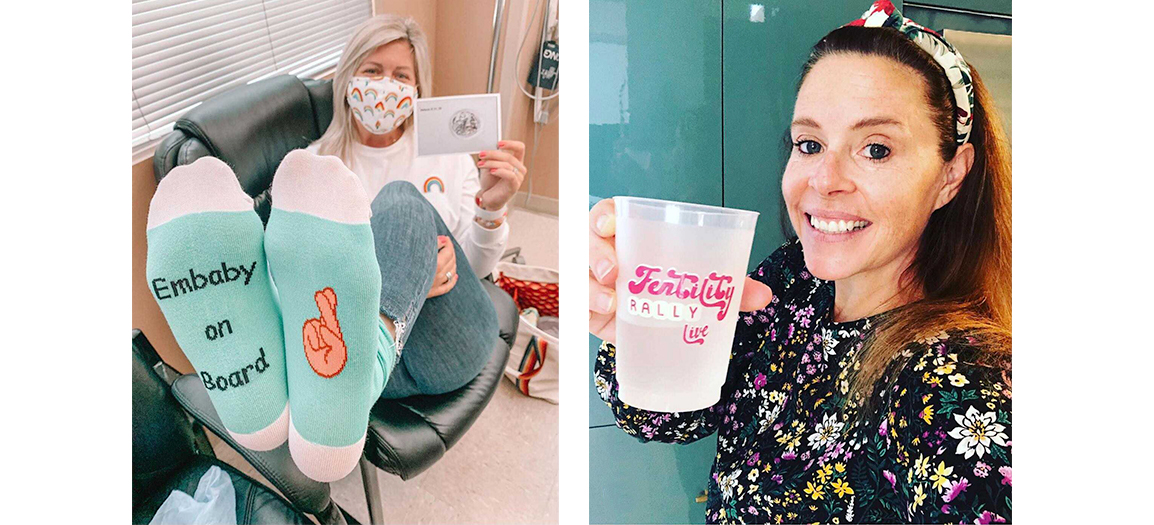 2. What advice would you give intended parents just starting their own fertility/family building journey, looking for providers on GoStork?
Blair: The fact that you are here at GoStork, being proactive about building your family, tells us you are strong AF. You should be proud. The journey from here will no doubt be financially, emotionally, and physically taxing. There will be bumps along the way and you will face setbacks. Know you are not alone. Find your support system and hold on tight. Know there are places like Fertility Rally where you can come for support and be unapologetically you. Remember your WHY. Why you are willing to go to such incredible lengths to grow your family. Let that be what grounds you on your hardest days and what gives you hope on your best. You got this!
Ali: Find your people. You do not have to go through this alone. Also, every loss is a loss, whether it's the loss of an embryo, the loss of a cycle, the loss of hope, the loss of a baby in utero or the loss of an infant. They are all hard. Grieve your losses and never compare your loss to someone else's. They are all valid. Finally, advocate for yourself. Ask questions until you get the answers you're looking for. Your doctors work for YOU.
3. You've created a thoughtfully curated, supportive, safe, hopeful space for so many others – how do you find the time and energy to do this, as well as maintain each of your own brands, maintain daily life in both of your own worlds, etc? Any health or wellness tips or other secrets we can all take inspiration from?
Blair: For me, it's simple. I will always find the time for something I love so much. Being in the company of such strong infertility warriors energizes me. It can definitely be tiring, but the sleep is good! My health and wellness tips and tricks are to start and end your day with healthy habits. I start every morning scraping my tongue (yep, you heard that right), followed by a cup of warm lemon water. I am also a HUGE bone broth fan (Bonafide and EPIC are my fave brands). I end my day meditating. I love the Expectful and Insight Timer apps. I go to sleep listening to Yoga Nidra meditations every night. My life mantra… TRY HARD AND HAVE FUN! Don't take yourself too seriously. Be you always. When it makes sense, pop champs or a White Claw! If you celebrate the small wins, everything seems possible!
Ali: I was willing to try anything! And I did it all: yoga, SoulCycle, herbs, acupuncture, going to a psychic, all the woo potions and elixirs! When it finally clicked is when I focused less on "having a baby" and more on getting totally healthy inside and out, mentally and physically. I was in the best shape of my life (well, maybe since high school!) when I got pregnant.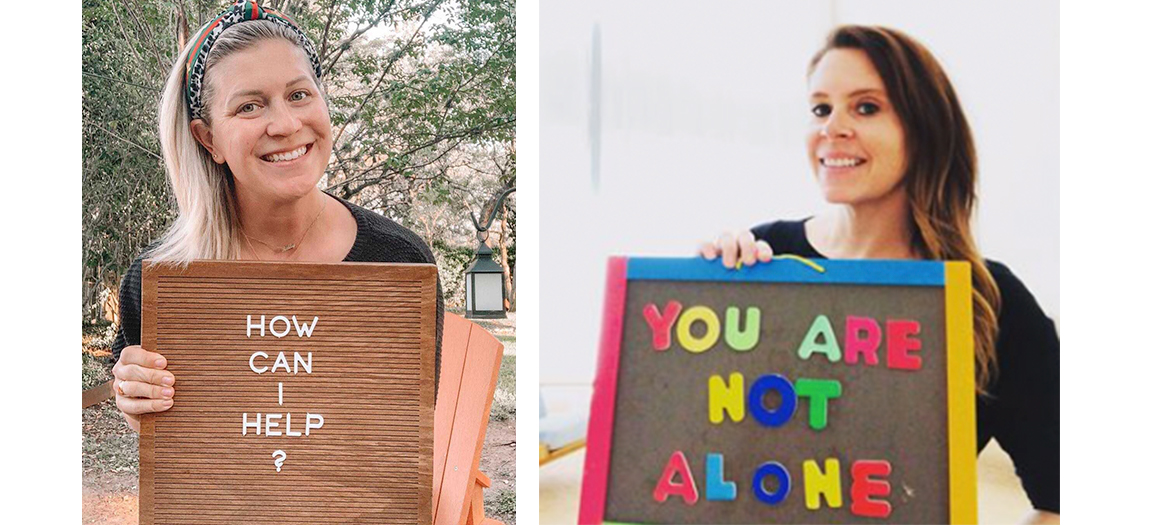 4. Fertility Rally and GoStork have more than one thing in common – we're supporting intended parents in different ways and we've both launched companies during covid/under quarantine. Speaking of quarantine, have you found a silver lining in more family time together… or even more business partner zoom time together? Any favorite or funny stories from this strange (hopefully temporary) new normal?
Blair: The silver lining I have taken from the quarantine is it has forced me to slow down. I am a recovering over-committed human. Before COVID, I was always rushing to the next social engagement, volunteer opportunity, board meeting or errand. I didn't realize how worn out I was until I was forced to stay home and slow down. I have also connected more with neighbors and my environment. I feel the pandemic has allowed me to be more present. I am grateful for all of those lessons learned! The funniest thing is that we have never met in person! We have logged (literally) hundreds of hours on ZOOM launching and running our membership site. It is going to be so crazy when we finally meet. We can imagine it will involve a lot of laughs, tears and White Claws!
Ali: It's been a rough year for the infertility community, as many people's treatments were put on hold during the height of the pandemic. The hardest part of infertility is waiting, and this meant even more waiting for so many. For us, we were able to start hosting virtual happy hours, which then turned into our virtual platform and membership site. It was a natural progression. It's one silver lining to Covid!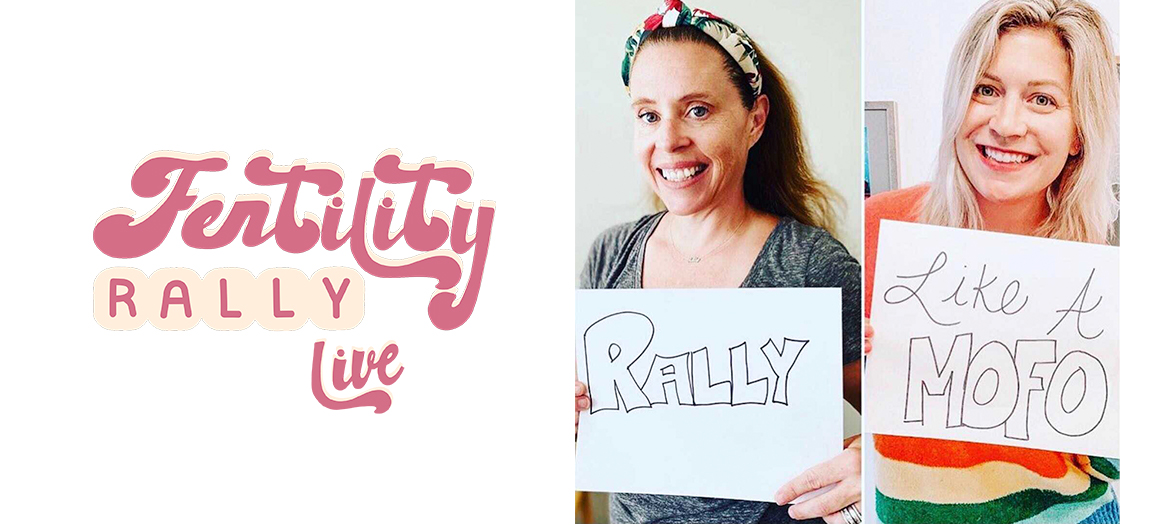 Thank you, Ali and Blair, your dedication and drive to helping those TTC is amazing! Intended parents – check back here over the coming weeks for more Communities We Love (and recommend you check out)!
Ready to start your search for a fertility provider? Learn more about your options, here.